The MT7886 is a thyristor-dimmable LED driver developed by M&A. It has wide compatibility, dimming depth less than 1%, dimming curve to meet NEMA SSL6 standard, and low THD. MT7886 is a critical conduction mode (CRM) high-precision LED constant current control chip that operates at zero current conduction and peak current shutdown. It is mainly used in non-isolated LED power systems. The MT7886 supports high power factor applications with PFs above 0.8.
The critical conduction mode ensures that the MT7886 can control the power switch to turn on when the inductor current is zero, reducing the switching loss of the power tube and ensuring that the system has a peak efficiency of more than 93%. The critical conduction mode with zero inductor current valley combined with the peak inductor current compensated by the input bus voltage ensures high accuracy of the output LED current with good linearity and load regulation.
This solution is not sensitive to changes in inductance and can use I-shaped inductors. The chip has a built-in 500V high-voltage power MOS tube, and the peripheral circuit is simple and the system cost is low. The MT7886 also implements various protection functions including Cycle-by-Cycle Overcurrent Protection (OCP), LED Short Circuit Protection (SCP), LED Adjustable Open Circuit Protection (OVP), and Over Temperature Protection (OTP) to ensure reliable system operation.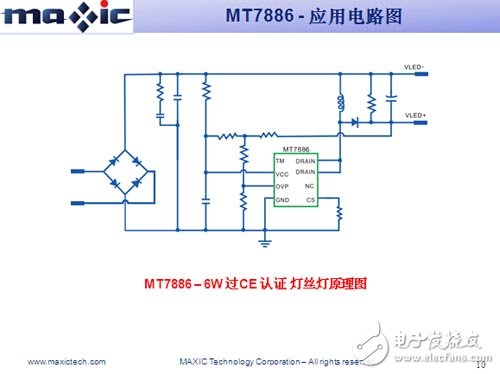 MT7886's target applications include: LED bulbs, fluorescent lamps, signal lights, landscape lights, etc.; LED stage lights, candle lights, corn lights, etc.; other LED drive applications and universal constant current sources.