The first eight products of NXP Semiconductors' latest fourth-generation low VCEsat (BISS-4) transistor attracted a lot of attention from the IIC.
This article refers to the address: http://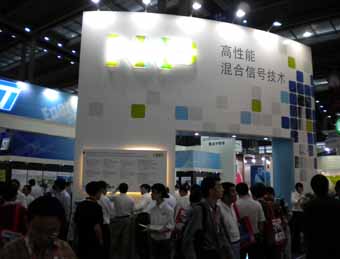 These transistors are called Breakthrough Small Signal (BISS) transistors because they establish a new benchmark for reducing the on-resistance and reduce the switching time to an absolute minimum.
According to Gao Deyong, NXP's semiconductor technology marketing manager, "NXP has successfully launched a series of three generations of transistors. The current demand for transistors is moving in two directions, namely ultra-low saturation voltage drop (VCEsat) and high-speed switching. The new generation of BISS-4, a new generation of transistors, is being met. The fourth generation is divided into two optimized branches: the ultra-low VCEsat branch transistor achieves an ultra-low saturation voltage of 50 mV at 1 A; Switching transistors reduce switching and storage times to 125 ns, making them ideal for motor drives."
Gao Deyong said: "The BISS-4 with low-resistance substrate technology is ideal for applications that require higher performance and lower switching losses. They range from 20 V to 60 V in a small SMD package SOT23 (2.9 x 1.3) x 1 mm) and SOT457 (2.9 x 1.5 x 1 mm)."
NXP Semiconductors introduced the BISS transistor family 10 years ago. The first generation of products still has quite a lot of applications in the market. However, portable products have become more and more sensitive to energy consumption. Taking consumer applications such as mobile phones as an example, the saturation voltage drop of BISS-4 is as low as 37mV due to the market's higher requirements for saturation pressure drop, which is significantly lower than the 84mV of the previous generation. Delay the standby time of the phone.
In addition, BISS-4 provides high circuit efficiency, low power loss, and generates less heat than standard transistors in the same package. These new products feature a DC collector current of 4.3 A (peak ICM 8 A) and are available in a small SOT23 package that is twice as powerful as the previous generation of low VCEsat transistors from SOT23. The new BISS-4 transistor is designed for load switching, switching power supply (SMPS) and power management functions in high volume consumer, communications, computing and automotive applications.
According to Gao Deyong: "The other types of SOT89, SOT223 and SO-8 of SMD packages to be launched at the end of the first quarter of 2010 are medium-power transistor products, which will expand the new low VCEsat (BISS) transistor series to meet more applications. Demand.